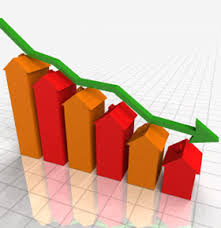 According to The Nationwide House Price Index for January figures show the average property values fell from £205,898 in December to £205,240 in the first month of 2017.
Despite this, Nationwide's release paints this as a 0.2% increase taking into account seasonal adjustments, and 4.3% up annually. The annual rate of growth has also slowed from 4.5% in December but is still up on the £196,829 recorded this time last year.
Robert Gardner is Nationwide's chief economist, has said: "On the one hand, there are grounds for optimism. The economy has remained far stronger than expected in the wake of the Brexit vote. "Recent data indicates that the economy didn't slow in the second half of 2016 and the unemployment rate remained stable at an 11-year low in the three months to November.
"However, there are tentative signs that conditions may be about to soften. Employment growth has moderated, and while wage growth has edged up in recent months, in real terms (i.e. after adjusting for inflation), earnings growth has already slowed.
"With inflation set to rise further in the months ahead as a result of the weaker pound, real wages are likely to come under further pressure. Employment growth is also likely to continue to moderate, should the economy slow as most forecasters expect."
He predicted that house prices would grow around 2% in 2017.