House prices are growing at their slowest rate for five years, Nationwide claims.
The Nationwide House Price Index for June put annual growth at 2%, down from 2.4% in May and the slowest rate of growth since 2013 when figures of 1.3% were reported.
Average prices are up 0.5% on a monthly basis, putting average values for this month at £215,444.
"The East Midlands was the strongest performing region in England, and also the UK, with prices up 4.4% year-on-year. Scotland was the only region to see a notable pickup in annual price growth this quarter – to 3.1%. Wales saw a
softening in price growth to 4%, though it was the best performing home nation.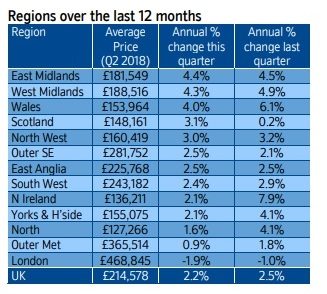 London was found to be the weakest performing region, with prices down 1.9% year-on-year to £468,845.
Chief economist for Nationwide, Robert Gardner  said: "Annual house price growth has been confined to a fairly narrow range of 2-3% over the past 12 months, suggesting little change in the balance between demand and supply in the market over that period.
"There are few signs of an imminent change. Surveyors continue to report subdued levels of new buyer enquiries, while the supply of properties on the market remains more of a trickle than a torrent.
"Looking further ahead, much will depend on how broader economic conditions evolve, especially in the labour market, but also with respect to interest rates.
"Subdued economic activity and ongoing pressure on household budgets is likely to continue to exert a modest drag on housing market activity and house price growth this year, though borrowing costs are likely to remain low.
"Overall, we continue to expect house prices to rise by around 1% over the course of 2018."
For the full report click here